In case you missed my first Monday Movie Inspiration on The Wedding Date, I am compiling ideas from each classic wedding chick flick we love, and making a top 10 favorites for each show!  We know these movies are entertaining, but I would suggest looking at each of these as a destination for inspiration for your own wedding.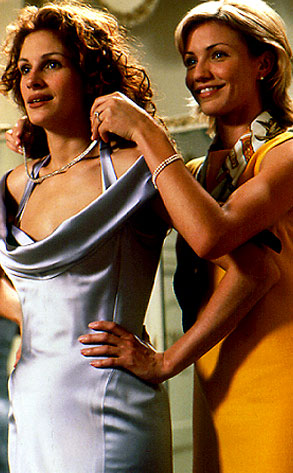 Movie:  My Best Friend's Wedding
Starring: Julia Roberts, Dermot Mulroney, Cameron Diaz & Rupert Everett
Quick Recap: Not until Julia Roberts long-time friend says he's engaged, she realizes she is in love with him.  She sets out to get him back, with only days before the wedding.
10 Top Inspiration Finds from 'My Best Friend's Wedding'
1. Unique Maid of Honor Dress – Julia Roberts dress in this movie is a solid, off-the-shoulder purple gown, while the bridesmaid dresses are patterned and bubble hemmed.  The design and color of the dress is different, allowing your best woman to stand out in all the pictures!
2. Get your Tuxedo Fitted Early – You would be surprised at the number of men that go in 4 – 6 months before the wedding to get measured for their tux and never return until 4 days before the wedding.  Just like the bride goes in for 3 fittings so should the groom (well at least one!)  Try on your tux early so you know it fits or the tuxedo company will have time to get a different size last minute!  This will only help relieve stress as the days get closer.
3. 4-Day Wedding Weekend – Dermot makes a comment about the wedding being a 4 day event. This isn't always possible due to family schedules and work priorities, but if you have the vacation I would highly recommend making your wedding weekend a long celebration!  Those that  come in to town will have planned events to attend and you can spend extra time with them. Spend one night with the family and get away with the girls for one night!  Take a spa day or a golf outing to relax, you have worked hard planning for a year, now is your time to enjoy it!
4. Backyard Wedding – The family in this movie is blessed with a beautiful backyard!  They played it up with beautiful white umbrellas and tents!  Having the space for your guests to mingle in the comfort of your own house is a great way to entertain at your wedding!
5. Opposite Sex Best Man & Maid of Honor – If you have spent your good and bad times with your best friend and he happens to be a man, don't count her out as your maid of honor quite yet!  Recently more and more couples are having their bestest standing next to them despite gender!
6. Long Sleeve Wedding Dress –  I thought it was interesting seeing Cameron Diaz dressed in a long sleeved gown.  While this is an older movie, the trend has changed dramatically to strapless gowns!  If your typically a more conservative person, don't think you need to follow a trend…make a fashion statement with sporting a long sleeve gown that you are most comfortable in!
7. Out of the Box Bridesmaids Dresses – If you have seen this movie than you know that the bridesmaid dresses are far from anything normal!  On the other hand, these dresses truly reflect the personalities of the women wearing them and they make a huge statement.  They aren't a solid color or a normal shape.  Don't be hesitant to go "outside of the box" and risk surprising a few of your guests with the style!
8. Relax and have Fun at the Rehearsal Dinner – One of the most famous scenes from this movie is during the rehearsal dinner when the family breaks into the song "Say a Little Prayer".  This is a great example of forgetting your stresses and truly taking time off to relax the night before the wedding!
9. All White Wedding – There are so many variety of colors and different shades to choose from when it comes to a color scheme for your wedding.  Sometimes the most beautiful weddings are kept simple and pure with everything draped in white.
10. Perfect Gift :: Loan a Song – Gifts don't always have to be tangible!  One of my favorite parts of this movie is at the end, when all of the chaos is done, Julia Roberts lets them borrow "their song"  until they find one of their own.  I guarantee these types of gifts mean more coming from the heart than a 10 speed blender!  Don't think the couple expects a certain type of gift, if you have something that is sentimental…it will be cherished much longer!
I want to know what ideas or inspiration you gained from the movie, 'My Best Friend's Wedding'.