I finally got the opportunity to sit down and watch Bride Wars with Kate Hudson and Anne Hathaway. It was a fun movie portraying friendship and truly outlining the stresses of wedding planning.  You see how personalities flare during big moments—unfortunately the movie is too true in a lot of situations.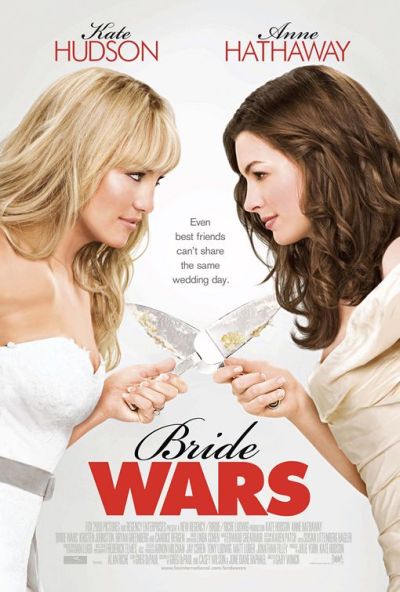 As always I am looking for inspirations in the smallest scenes during these wedding movies.  I have listed my top 9 from Bride Wars below, let me know if I missed anything!
1.  Little Girls Dream at early ages:  These dreams were represented by a blue hair pin in the movie.  The two girls formed their picture of a dream wedding at age 7 after seeing a bride getting married at The Plaza. These dreams were still strong years later when they were both engaged and planning their weddings.  As you grow up I think many times these dreams do change as you mature, but I think this movie portrays how important it is to not lose sight of these first beginnings.  Although they will change, the seed was planted at an early age!
2. Short Term Weddings:  You see in this movie very clearly how short term engagements are absolutely possible but you have to be organized and know what you want! Venues and vendors book up at least a year out, and if you are being picky on who, what and where be ready for a longer planning period!
3.  Bridal Beauty:  The big question of most brides is how early do I begin the beauty process…Do I go self tanning, or do I trust not to burn in the sun?  Should I do my normal highlight routine or should I go a bit blonder for my wedding pictures?  I could easily focus a month on questions surrounding bridal beauty, but I think the main lesson learned from this movie is start early!  Whatever the routine you choose to use, practice, practice, practice!  Give yourself enough time that if you are uncomfortable with the results you can re-do them with no stress attached.
4. Exercise: In order to feel your best and remain relaxed, exercise is an important part of the planning process!  Schedule time to work out whether it is running, lifting weights or a walk around a nearby park.  What struck me about this movie is have a partner to help motivate you!  Grab a close friend and use it as an hour catch-up session.  I have known friends who refuse to talk on the phone until their scheduled walk so they save their stories to spill during the hour, making the time fly by.  Another key to the exercise time is this is your time to escape, don't invite someone to join you if they are going to discuss wedding details that will add to your stress. Use this as a time to focus on everything but the wedding!
5. Wearing Mom's Dress: Anne Hathaway decides early on that she is going to wear her mother's wedding dress, despite trying on other Vera Wang dresses and loving them!  This is an interesting part of the movie due to her decision being based on her thinking how much it will mean to her mom.  This is very sentimental and could be a very unique detail to add to her wedding.  The only part of this decision I would argue is she didn't talk with her mom beforehand, if she did she would realize that her mom wasn't as passionate as she was about her old wedding dress.  Of course she was touched by the thought but she wanted her daughter to be happy and wear her perfect wedding dress, not what was perfect for her years back.
6. Importance of the Maid of Honor: During the movie when the two best friends start arguing and are forced to choose alternate maid of honors you see the importance of this role in your wedding.  You need to choose carefully or your plans might not run as smoothly.  You need someone in your life that will not only offer their honest opinion but someone who will support you throughout every decision that needs to be made. Sometimes your fiance just doesn't understand the importance of the save the dates or the color of the bouquet…you need the outside opinion from someone who is looking out for your best interests!
7. Groom's Input: Guys approach decisions much differently (we could spend another month discussing this specifically!)  When the wedding chaos began between Anne and Kate, their husbands were the first to suggest a double wedding.  While this wasn't an option for either girl, it is an example how guys look at solving the problem outside of the box.  They have no 'wedding rules' to follow, so to them everything is fair game.  I suggest if you can't find a solution to a planning problem, go to your future husband for a suggestion…he may surprise you with the simplest answer as the best conclusion.
8. Hiring the 'RIGHT' Vendors: As you saw in the movie, having the right location along with the right wedding planner and the best florist is key to a successful wedding day.  Every bride will find different vendors that fit her style, but by hiring the right vendors for her wedding—she will realize that they have relationships around her city that will help guarantee other vendors that fit within her wedding plans.
9. Brother giving away his sister: I think all of the brides out there who are getting married without their father present to walk them down the aisle, should be inspired by this movie to choose another important person in your life to give you away. Kate Hudson chose to have her brother walk her down the aisle, to give her away, but it doesn't even have to be a man in your life…find anyone, a grandmother, close friend or uncle to share in the honor.
What inspired you from this movie? Was it the lavish Vera Wang dress or the divine ceremony decor?  Let me know what I missed above!