Your heart starts beating faster and you feel a bit lightheaded as the last year of planning flashes through your head… That's right, you're finally walking down the aisle!  It's fun to think about the moment you are preparing to walk towards your future husband in front of all of your friends and family. But once it actually arrives, it's an out-of-body experience.
I was walking on air, and the only thing that got me down the aisle was locking my eyes with J's and focusing on not tripping! I held on tightly to my father's arm and my smile stretched from ear to ear.  My wedding was outside, so we were all walking on grass, which added an additional obstacle to overcome! The main thought that was going through my head was, "this is really happening…Finally!"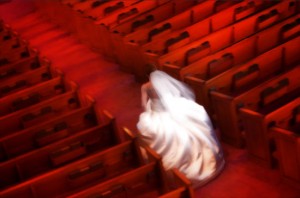 Everyone has a different "aisle experience".  I want to hear yours!  My fellow Twitter friends shared a few of the thoughts that went through their head:
"I really had to pee! My moh told me to pee under my dress- how crazy is that? I just held it!" – Lavish Events
"Please God don't let me trip… don't let me trip… don't let me trip…" – Kellie  Confessions of an organized mess
"I'was praying that I didn't trip on my dress…seriously! "-Wendy   Sacred Moments Blog
"keep it together, keep it together, don't cry, don't trip, lookin good" – One Wed
"Walk slow. Smile. Don't trip" – Joanna  Sunflowers in my Kitchen
Leave me a comment with what you were thinking…funny or serious!! Let's help these brides-to-be know what to expect!