Every bride wants to look their very best on the one day they have spent a year planning for! The energy and time spent planning a wedding is exhausting.  My first tip on your journey to look your very best is to keep eating! I am not saying to overeat or celebrate your engagement to the point of gaining 5+ lbs.  I am suggesting to pay attention to your diet and keep a healthy one.  Avoid any crash dieting, they will only leave you without any energy!  You need all the fuel you can get for trying on dresses and meeting with vendors!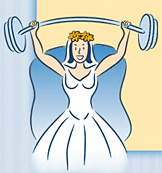 Since I am encouraging you to keep eating a regular diet, and I am guessing, like most brides, you still want to possibly lose a few pounds, I am highly recommending exercise!!  Trust me, I know most of you avoid exercise like the plague, and hate the mere thought of having to run in place on a treadmill for over 10 minutes.  The key to exercise is finding what activities you enjoy and focusing on those.  First determine if you enjoy group activities such as yoga and cycling or if you prefer to work out alone on the treadmill and free weights.
Every magazine, blog or website will share a different "bridal bootcamp" to get you into shape. Pick what works best for you, don't overdo it and remember that your fiance thinks you are beautiful both inside and out no matter what workout/diet you do.
Here are a couple of really great ways I have found that help keep track of your progress: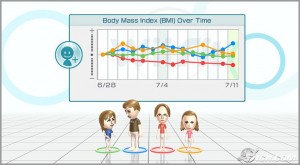 Wii Fit offers a range of activities from relaxing yoga, to fun balancing games, to serious strength exercise.  I think one of the best opportunities is the daily body test.  It gives you a consistent record of your BMI and body weight with finally giving you a Wii Fit age.  Knowing that on any given day your weight will fluctuate for whatever reason, if you continue this long term you will begin to see trends.  It is constant reminder of eating healthy including interesting tips on how to continually improve your health.  Highlights for me are the 10 minute hula hoop (you will be surprised at the ab work that you do!) and the free run.  Instead of sitting on the couch I will turn on the 30 minute free run and then switch over to my favorite TV shows and jog in the living room while watching.  It beats sitting on the couch all night!
Lose It is an iPhone application that allows you to input your weight goals and then allocates how many calories a day you should eat to reach those goals at a healthy rate.  You are able to put in all of the food you eat during the day and the exercise you do!  The great thing about this application is in most situations you always have your phone with you.  So after breakfast, lunch and dinner it is simple to quickly input the food and not have to think about it the rest of the day!
CAVEAT:  You do not need to go out and buy wii fit if your wedding is in 8 months or purchase an iPhone to keep track of your calorie intake.  These are ways that I have found and use that are fun and work for me.  Find what you will remember to do consistently!
Here are a few articles I found on brides, dieting and exercise. Enjoy!!  Do what you need to do to look and feel FABULOUS on your wedding day, but please do it in a healthy way!!
Why Some Brides Go to Extremes