There are always a handful of your friends and family that are unable to make the flight or have prior arrangements the weekend of your wedding.  I DO Stream will help you broadcast your wedding live for those who are unable to attend.  They will be able to experience the wedding in real-time with everyone else—from their living room across the country!
If you have already hired a videographer don't worry, they can work with them to get your wedding on the Internet.  They offer a free guestbook and live chat during the stream for the viewers to interact with each other.  Also, to let everyone know about the event they have complimentary e-vites that will send an email to your guests and let them know easy steps on how to attend the live broadcast.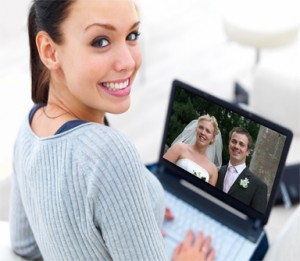 With the current hype on Twitter, Blogs and Technology in general, I think that this live streaming of your wedding is a pretty cool option to offer your guests that cant attend!  I have never attended a wedding yet that has this option, I would love to hear about the details of your experience with streaming your wedding live!  Was it user friendly for your guests?
Have you streamed your wedding live?  Tell us about your experience!
Source: I DO Stream