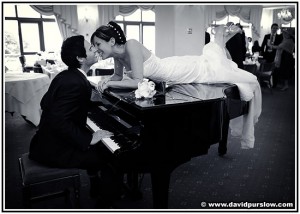 To surprise your bride to be, even if you are not a musician, why not learn to play a simple love song for your bride.  Whether you want to debut at the ceremony as a special song, or during the reception when the atmosphere is a bit more laid back, your bride will be glowing when she sees you step up to play.
Brides spend at least a full year planning their big day, and they usually have memorized every detail of their wedding day.  What would your bride say if you told her to add a special song into the program but refused to tell her who was singing it or what song?
Your nerves will be running high so keep it simple.  Pick a song that is easy to play either on piano or guitar, whichever you are most comfortable with.  Finally, this suggestion isn't only for grooms that have taken voice lessons.  My mind drifts off to memories of The Wedding Singer, when Adam Sandler sings "I Wanna Grow Old With You" on the plane at the end of the movie.  His voice was not the next American Idol but you could tell his song was full of love, it made everyone laugh a bit but they all got the point!
Be Confident…Smile big…and Sing from your Heart!
Have you ever had a groom sing at his own wedding? What song did he sing?
Source:  David Purslow Photography