Don't settle for the typical bachelor party consisting of only drinking, bars and girls…step outside the box and you may surprise you and your friends on how much fun you can have!  Make your bachelor party stand out as an exciting trip for everyone, leaving no one disappointed.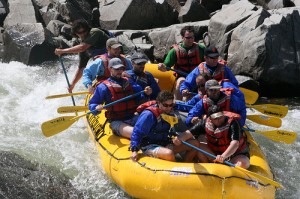 The best bachelor party stories I have heard (never experienced!) are the ones that are adventures.  What guy doesn't love an event that involves a little bit of danger and a whole lot of action?  Head camping with the guys to an area that has plenty of activities for everyone.  A great example of this is going white water rafting for the day and building a fire to camp out that night.
I have heard great stories of setting up a "roast" for the groom and each guy takes a turn telling old stories and funny situations that the groom has been in.  Another suggestion would be to bring a poker table with you camping, and spend the evening competing against each other in a tournament.
The great thing about camping is you get away from everything…TV, computers, phones…it is just you and the guys that you have spent many years getting to know and great memories with!  You can go to the bars any night (and how much do you actually remember after the evening is over?) Make your bachelor party a night to remember!
For you brides out there reading this…suggest this idea to your future hubby's best man…sometimes guys need ideas to help plan these parties!