Brides spend hours planning and brainstorming ideas to give their guest as a favor or thank you for celebrating their special day with them.  You look for a favor that represents you as a couple, but you also want one that will go along with the theme of your wedding.  You may want a monogram or initial on it, or you might insist that it is practical and your guests will actually use it.  Their are price constraints and color choices, but in the end every bride usually finds a favor that makes all the cuts and ends up to be the perfect representation of you and a memory of your wedding celebration!  Everyone has different likes and dislikes which is one of the reasons Sunflower Favors has such a large variety of wedding favors—you can't not find something in her selection that catches your eye!
I picked out a few of my favorite favors on her list, the first one being the "Olive You" – Tuscan Oil Bottle, perfect for an Italian countryside wedding.  If possible, fill it with a local oil that is famous in your region, or one that you and your fiance have tried together.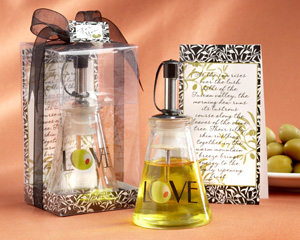 I am picturing this Diamond Ring Paperweight shown below as the perfect bridal shower favor.  I think this is such a fun gift for your bridesmaids.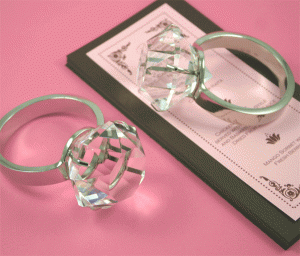 I think this candle would be fun if you hosted a martini-themed bridal shower or wedding.  Create a signature martini or host a martini bar for your guests and pass stuffed olives for appetizers.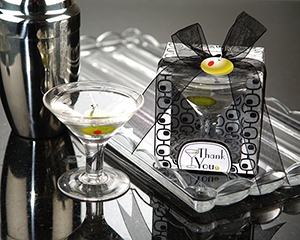 Visit them at Sunflower Favor Blog.