One of the most photographed parts of your body other than your glowing smile, is your glistening wedding ring with your perfectly manicured fingernails.  When you are making your beauty schedule for your big day, consisting of your hair and makeup—please do not forget about your nails!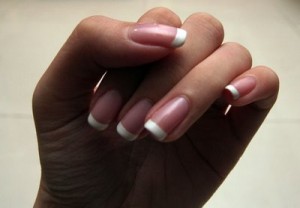 The tangible symbol of your wedding is the new rings you will be wearing and of course the photographer is going to want the new bling in the pictures! You want your fingernails to look as good as possible to make the picture that much better! Either host a spa day with your bridesmaids and have everyone together getting mani's and pedi's a day or two before the wedding, or use this as a time to get away and relax by yourself.
I love spa parties with everyone, but for brides-to-be I suggest using this as a time for you to get away and find peace and quiet.  Find a spa where you can get your nails done, a massage and a facial. Many spas have bride-to-be packages or deals that have all of these in one.  With all of the tension and stress you have been going through for the last year of planning, a fully body massage will take it all out of you.
For the 2-3 hours that you are at the spa you don't have to think about which guests can't come or what color of shoes your bridesmaids are wearing—you just have to think of your wonderful husband-to-be and your new marriage together.
Don't misunderstand, I have had plenty of fabulous successful bridal spa parties where all of the bridesmaids get robes and they celebrate together.  The spa is full of excitement with everyone bustling around, talking about your wedding!  If your personality screams "the more the merrier" and "I can relax on the Honeymoon" then by all means have everyone join you! Maybe even invite your photographer along to take some getting ready pictures with your group to capture the moments of the event.  If you do choose to have everyone join you—I recommend finding something else that you love to do whether it be working out, reading or going to a special place—and take time by yourself to regain your sanity!
Did you take a personal day at the spa or invite the entire crew for the celebration?