Despite wedding dress trends constantly changing, most brides keep their dress with thoughts of one day her daughter wearing the dress down the aisle.  Is this a realistic dream?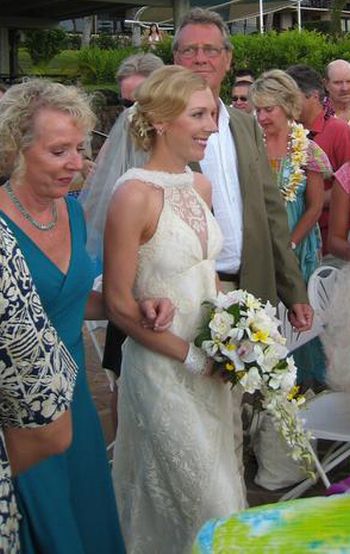 I do think it is unique and fabulous when a bride has the same style as her mother and is able to fit the dress to her body shape.  This will not only save you money but there is great history around your dress—unique to only your family.  If your mother has saved her dress this long, I am sure it will make her proud to see you wearing her dress on your big day.
I think this is a detail that depends on the personality of the bride and her picture of her big day.  I think that some brides want a brand new dress that they will be the only one to ever wear.  Other brides enjoy vintage dresses or are able to get great deals on resold dresses.
You want to feel 100% comfortable and gorgeous on your big day, I would hate for a bride to wear her mother's dress because she feels it will make her mother happy.  Today is not about making your mother happy, it is about creating an event that reflects you and your future husband.
My suggestion is to possibly compromise with your mother.  Take her dress to a seamstress and if your mom is willing to let you alter it, change it to a more modern style.  Possible make it strapless or add some beading to make it a dress you originally envisioned.
If you are using your mother's wedding dress, here are a few considerations from Weddingbells Blog:
Dresses condition
Review the overall state of the dress. Is the fabric strong enough to be handled without the gown literally falling apart at the seams? If it's too fragile to withstand handling, you can always use the design as inspiration for a new custom-made gown. Or incorporate elements of the original—some lace details or the bodice—into a new garment.

Dress Size
Does the dress fit you? Does it even come close to fitting your body shape? This will determine how much work needs to be done on the gown. If it's too small, the job only gets bigger as fabrics that form an exact match must be found in order to redesign it. Remember, the bigger the job, the bigger the final bill.

Find a Great Designer
Do your research before hiring a designer. Don't pick the first one you see in the Yellow Pages. Make appointments, meet with each individual, show them your gown and look at their portfolio. Only when you find the perfect match should you commit to having the project done.
Good Luck and Happy Altering!