Serve your guests in style with these black cocktails found on Martha Stewart's website for your Halloween party this year!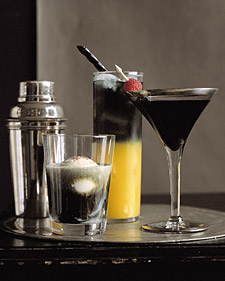 Ghost in the Graveyard
Serves 1
2 ounces black vodka
2 ounces creme de cacao or coffee-flavored liqueur
1 scoop vanilla ice cream
Pinch of finely grated nutmeg, for garnish

In a glass, combine vodka and creme de cacao, and set aside. Place a scoop of ice cream in a highball glass, and slowly pour vodka mixture over ice cream. Garnish with nutmeg; serve immediately.
Screwed-Up Screwdriver
Serves 1
1/4 cup ice
1/2 cup freshly squeezed tangerine juice
1 1/2 ounces black vodka
1 black licorice twist, for serving

Place ice in a tall glass. Pour juice into glass. Pour vodka over the back of a cocktail spoon into glass so it sits on top of juice and creates a layer of black. Slice 1/4 inch off each end of licorice, and use as a straw. Serve immediately.
Source: Martha Stewart