Every day  men are trying to come up with unique and personal ways to take the leap and get down on one knee asking their significant other to marry them.  Some couples want the privacy of just the two of them, and other couples go all out at baseball games or in this case a street sign on the side of the road.  Street Art turns romantic when 'Posterchild' from The Torontoist uses is art not only for what he calls New York Sunsets, but to ask is second half to be there forever.  One quiet night while they were walking home he took a short detour to put up his most recent piece.
At first she thought it was another art piece to shock his fans and those walking by.  As always she continued to take pictures and document his art, while he looks at her in disbelief for ignoring such an important question.  Finally he gets her attention and repeats what he thought he conveyed on the sign.. "'Seriously, will you marry me?'.  After realizing it wasn't just a piece of art and he got down on his knee to officially ask …she said Yes!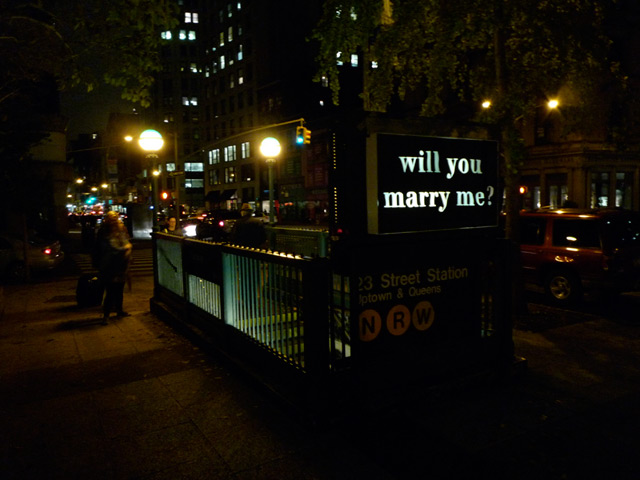 Another example of a creative and unique way to incorporate something that is important to you into your proposal.  Thank you for the inspiration and Good Luck with your future marriage!!
Read the Full Story @ Torontoist