Ready…..Set…. FLY!
Flyin' Hawaiian Zipline is a brand new course offering eight different lines to zip on, including the longest and most amazing ride in Hawaii.  The final line on your trip is 3600 feet in length, which ends up leaving you nowhere near land for about a minute! This course starts at Maui Tropical Plantation in Waikapu and ends in Maalaea… two completely different towns!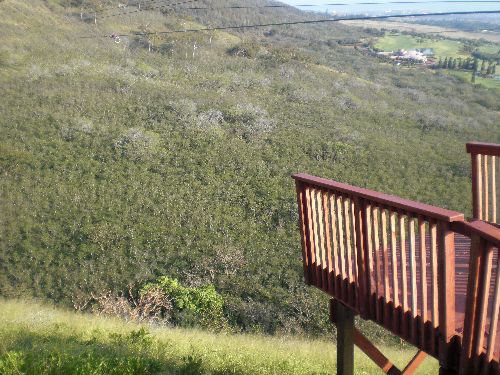 When you first arrive, your guides for the trip get you set up in the equipment and give you the standard safety rundown.  You learn the two moves that will help you glide gracefully and stop when necessary. After a very rocky and rugged 4-wheel drive up a hill, you begin a short hike to the first practice line.  Once you have perfected the moves – they send you on the second longest line right away.  The guide lifts you up and lets you fly – your first thought is 'I can't believe I am doing this,' followed by a tremendous appreciation for the untouched scenery around you. You are able to sit back, enjoy the ride and take a moment to savor the greenery.
While on the tour you learn a bit of history about the land.  In order to make money off of the land the owner was looking to sell it, and in an act to save it from being developed a friend of the owners came up with this zipline adventure.  To help reduce their mark on the land the guides take with them a new state flower plant on each trip to add to the land.  Once you get to the side of the mountain they have designated for planting, you plant and water your team's new flower and than you use water bottles and help water the flowers planted on past trips.
This is not a scary, adrenaline pumping ride, you will be surprised how relaxing and almost peaceful this trip is.  You are able to sit and glide through untouched beauty and look over views that not a lot of tourists or locals get to see. ** This is a must do when you visit Maui!**