If you are traveling to Hawaii during the winter months, the North Shore of Oahu is the place you are going to want to make sure you spend a day.  The spot of Ehukai Beach, commonly known as the Banzai Pipeline, is the most notable surfing spot on the North Shore.  The waves can reach up to 20 feet during winter.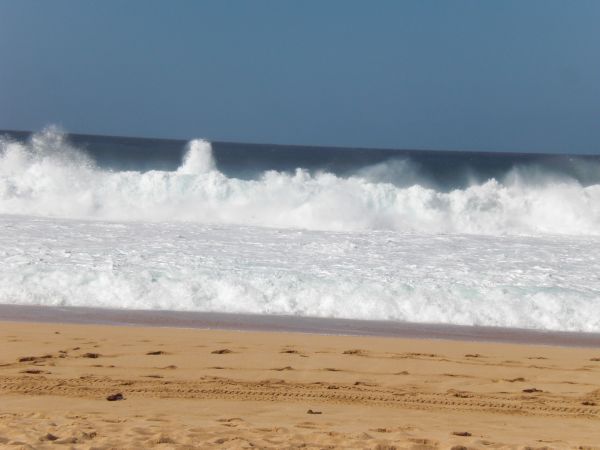 You will find what is called the 'Seven Mile Miracle' stretch of beach that begins in Haleiwa, a famous surf town, and ends in Turtle Bay.  If you are lucky you will come on a day when The North Shore is host to one of the numerous surfing competitions that take on these massive waves.  Grab a plate lunch from one of the many roadside stops and sit out on the beach and watch the brave souls ride these treacherous pipelines.  My only requirement is that you drive to Matsumoto's and order Shave Ice (NOT shaved ice)!  I can't put my finger on it, but this is the best shave ice you will experience on the island – and it is located here on the North Shore in Haleiwa!
If you are a beginner and are interested in trying the waves yourself there are areas on the beach where they can give surf lessons.  You might not be hitting up the 20 foot waves quite yet, but soon enough you will get the swing of it!  Be careful not to get in over your head, most of the main beaches do have lifeguards and if they think you aren't prepared to handle the level of waves they will get on the loud speaker and call you in.  This is for your own safety and the safety of the surfers around you – those waves can have a mind of their own sometimes.