Choosing how to set up your reception can be a difficult decision.  I have memories of 200+ escort cards laid around my living room attempting to put names to tables and make everyone fit in the room like a never ending puzzle!  Did it work out in the end?  Yes!  But were there 12 different right answers?  Absolutely!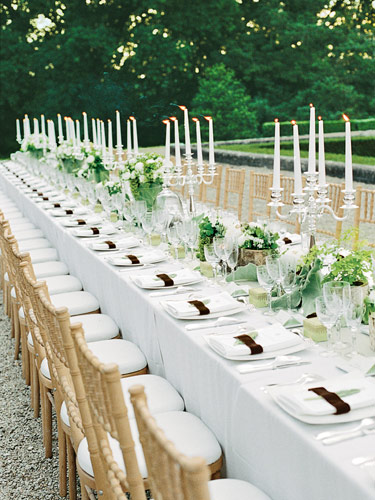 Factors that will probably go through your mind concerning the seating arrangement are:
– Who knows who at the wedding
– Age groups of everyone and whether they are bringing a plus one
– Each couples' background, where are they from/common interests
– Who you want to sit closest to the dance floor
– Who you want to sit closest to the bar
– Who you want furthest from the bar 🙂
Finally, you will have to decide if you want to keep the tables intimate and sit 5 – 6 around each table, or you want to have long dramatic tables for 25  – and share a meal family style.  Don't worry, you don't have to choose just one.  Possibly you sit the bridal party around a big long table, you and your groom at a sweetheart table for two and your guests at tables ranging from 5-10 people at each table.
That is the good news about this topic, that there is truly no correct answer!  Although there is no correct answer, you will be surprised at how much time this could end up taking.  Also, be careful inviting to many opinions into this decision because every member of the family will have a different thought to add to the pot.  Keep it simple – and always remember your guests will only be sitting during dinner, the remaining time will be spent showing off their dance moves and mingling during the cocktail hour!