As a wedding coordinator I am almost always at the back of the ceremony site running around to ensure the event starts on time and everyone is in their place.  I can honestly say nothing irks me more recently than guests who stroll in on their own schedule.  Never have I ever started a wedding without having a group arriving late, so this expectation I understand and fully support.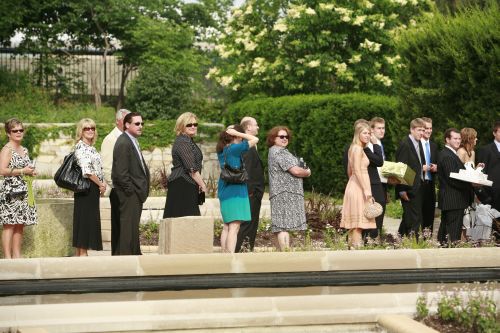 Weddings are interesting time wise because if you are in the wedding party you have been up since 8 am prepping for the big walk down the aisle.  You usually end up sitting around the church or ceremony site for around 4 hours taking pictures, getting dressed and doing a lot of waiting.  You will always have certain guests arriving 45 – 30 minutes prior to the start time and you will always have the late comers.  Why this is such a sore point for me personally is nowadays unless you are hosting a catholic wedding, most ceremonies are around 25 – 35 minutes.  If you arrive even 10 minutes late you have missed 1/3 of the main event.
Most wedding have a time range of about 10 – 15 minutes before the start where you will have a rush of everyone arriving which will create lines and will back up the seating time a bit. By planning ahead and expecting this rush you can usually get everyone in their seats with enough time.
You know if your family tends to be late.  As a bride, make sure you tell your wedding planner or designated person your 'must haves' to walk down the aisle.  Maybe you won't mind as much if cousin Joe or friend Fred isn't in his seat yet, but you refuse to walk down the aisle until Grandma Dianne is in her seat.  Once everyone on your main list has been seated than anyone else that arrives late will kindly have to wait in the back until there is a good chance for them to sneak in the back, hopefully not interrupting.
There is no fashionably late when it comes to a wedding.  As a guest you need to leave yourself enough time to have a buffer in case traffic hits or you get lost.  No one wants to be "that person" walking in late, pulling the attention from the bride and groom.  Trust me, next time you will want to be on time!