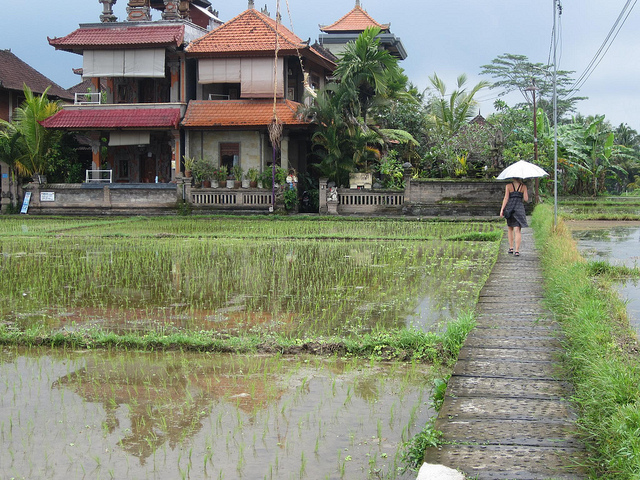 Bali moon is for couples who dream about a romantic getaway and have always had Bali on the top of their list. I will be honest, Bali was not my favorite island when I traveled through Indonesia – but here at Bali Moon I fell in love.
You avoid the hustle and bustle of the beach in Kuta or the tourist crowds in Sanur. Even in Ubud you are able to hide out in the middle of a rice fields and find peace and quiet while on your honeymoon.  At Bali moon you feel as if you are on an island all by yourself, you have delicious breakfast delivered to your veranda ever morning and your room cleaned daily with fresh flowers decorating the room.
Made, Wayan and family who run the guesthouse, welcome you into their home and show you true Balinese hospitality. Made is a great cook who studied abroad in Austria and you will be able to taste his great recipes every morning for breakfast!
If you have had enough time alone together in the beautiful room, you can get out and enjoy great hiking through Ubud, the Monkey forest or visit Bali Pulina for a coffee tasting. Rent a motorbike and drive up through Mt Batur or go to the beach for the day. Staying in Ubud puts you in the center of Bali, giving you flexibility to take day trips north or to southern Bali.  While we were in Bali we didn't have time to make it north, where all the locals suggest is the most beautiful!
If you are planning a honeymoon in Bali, I highly suggest Bali Moon. You will find plenty of hotels and resorts in Bali catering to couples, but the kindness you find at this guesthouse is unmatched. You will not be just another room at this guesthouse,  you will be part of their family.  They don't speak perfect English, but for me the great thing about traveling is you get to adventure outside of your comfort zone, finding new experiences and meeting wonderful people along the way. A smile is the same in every language!
Email Made at:   made_hibiscus@yahoo.com