Indonesia is made up of 18,110  islands with 6,000 inhabited.
An island in the midst of all of these is Gili Air, my favorite secret hideout and suggested Honeymoon escape!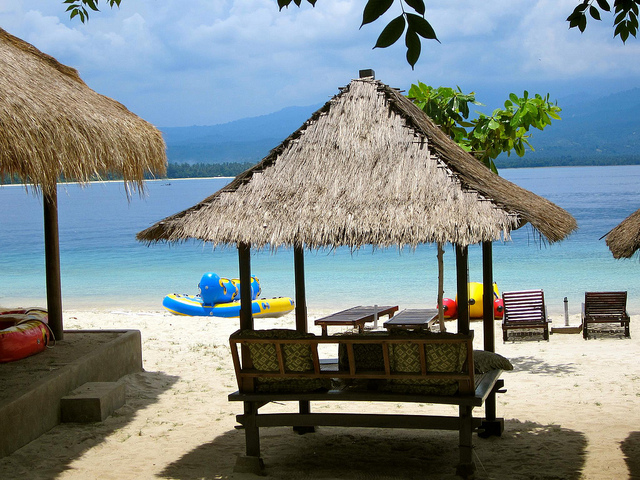 Gili Air is an island where you can truly get-a-way and enjoy the peace of being in, what you feel like is the middle of nowhere. Gili Islands are made up of 3 islands, Gili  Trawangan, Gili Air and Gili Meno.  Gili  Trawangan is much more touristed and has more to see and do, Gili Meno is remote and only offers a couple of places to stay. Gili Air is the perfect middle, having enough activities on the island to go out and meet new people, or you can hide out on the far side of the island and see only a few people during your entire stay.
I warn you, I planned to stay a week and after falling in love with the island lifestyle, quickly increased my vacation to two weeks. Some of the other tourists on the island had been there for 7+ weeks because they had fallen into the easy days and breathtaking scenery.
To give you an idea of the size of the island, you can walk around the island in an hour. Along the beach you will find restaurants that serve you in personal huts, where you can lay down for a nap after lunch and fall asleep to the ocean waves. (cheesy, but it is honestly this relaxing and equally amazing!)
To get here you will have to first fly to Bali or Lombok in Indonesia and take a fast boat to the islands. Air Asia has cheap flights in Indonesia so considering buying this flights separate once you get to SE Asia.  We stayed at the dive school Oceans 5 Dive, owned by a Dutch couple and would recommend this to anyone in search of a place to sleep. We loved having the option to lay out by their pool and our new found love of diving is left for another post!
Gili Air is one of our main pics for Honeymoon Destinations! Email us if you have any questions about the Gili Islands, I would love to help you plan the trip and offer more tips!
Check out our Gili Air Flickr Set for more photos