You have started the search for your first dance song. The pressure is on to find the best song that represents you as a couple… remember 250 of your closest friends are judging you.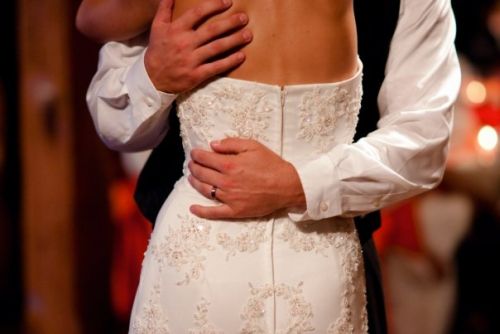 Find a song that represents you
If you aren't the slow country swaying type of couple, than choosing a song off the top 100 first dance songs might not be memorable for you. If you are upbeat and full of energy use a song that will get you moving. If you consider yourselves goofy and funny, make up a dance together to get the crowd engaged and laughing. The most important thing to remember about your first dance is make it about you!
Use your parents first dance song…
and invite them to dance along with you! Have two first dances, one with each set of parents. Play the song that they used in their wedding and bring them onto the dance floor. I suggest you warn them about this idea so they can dust off their dancing shoes prior to the big event.
Have your bridal party put on a show with you
Recently there has been a flash-mob style first dance where the bride and groom starts their slow sways and all of a sudden the music changes and the bridal party takes over the dance floor to a pre-arranged choreographed dance. This is a lot of work and organization, but if executed well, can make for a memorable evening!
Don't have a first dance
Nowhere in Life's rules for fabulous weddings does it read you must have a first dance. I promised you and your new hubby will still stayed married without a formal dance. If it isn't your style to get up and dance while everyone else ooo's and ahhh's at you than don't do it.
What did you do for your first dance to make it unique to you?