I could write for months on what to eat leading up to your wedding day in order to have a healthy body and fill your body with the correct nutrients. I don't have time in this one post so I want to focus on specifically, what to eat on the day of your wedding for a successful wedding day.
Top 8 Tips for Nutrition on Your Wedding Day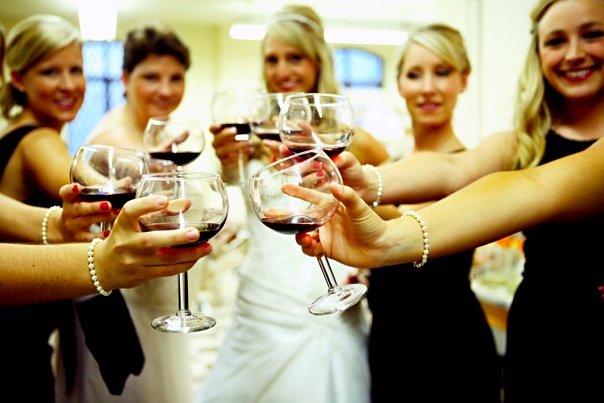 Eat breakfast!
This one is the most important. A simple bowl of oatmeal will help control your appetite and maintain your sugar levels for the day. If you aren't a breakfast eater, make a smoothie with fresh fruit and spinach.
Only have  1 morning mimosa
Whether you are starting the morning with mimosas with the girls, or are popping a bottle of champagne at the church before your walk down the aisle, limit yourself to one drink pre-wedding. Depending on your nerves, what you ate that day and how much water you drank that one drink could hit you harder than expected. Be safe, and keep it to just one until the reception.
Drink more water than you think you need
Your wedding day will be busy! Make a point  to ask your bridal assistant to make sure you continually drink water throughout the day. Drinking more water actually helps prevent water retention so don't think the more water you drink the more bloated you will feel, it's exactly the opposite. You don't want to be dehydrated walking down the aisle.
Skip the berries
Raspberries, strawberries and blackberries are delicious fruits to snack on, but they risk not only staining your beautiful white dress, but also leaving seeds in your teeth for your photos. Opt for less messy fruits such as grapes, apples, oranges and kiwi.
Keep the salt to a minimum
Salt will only cause you to retain water, so watch your sodium in the days leading up to your big day.
Keep healthy snacks on hand
You want to make sure you eat on your big day (I speak from experience). From the time you start your first hair appointment, the entire day will seem like a blur. Make sure you make time to sit down and eat breakfast and lunch so you don't pass out from low blood sugar in front of your guests.
My favorite snacks to keep on hand are:
Almonds
FF plain greek yogurt
Cubes of cheese
Mini turkey sandwiches
Natural peanut butter with whole wheat bread
Dark chocolate to satisfy your sweet tooth
Plenty of water
Avoid beans, broccoli and cauliflower
We know these foods are nutritious, but before your big day they can cause you to bloat and be much more gassy down the aisle than you will want to be remembered for. Trust me – stay away on the big day!
Beware of alcohol the night before
Everyone knows your rehearsal dinner will be a big party with all of your closest friends and family, but save the alcohol for the big toast on your wedding day. Drinking too much the night before can cause you to not sleep well, wake up hungover… or worse with your head in the toilet. If you plan on drinking a lot, save it for your reception after your I Do's!