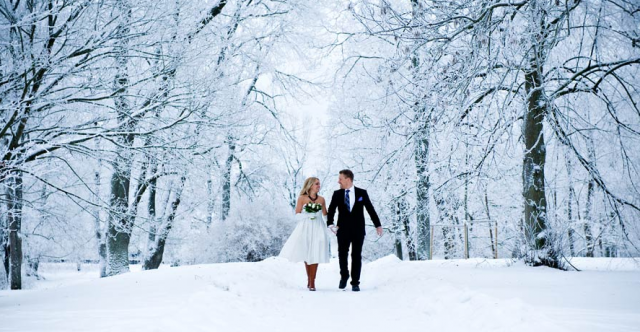 Beware of the temperature
It's cold outside, so you crank up the heat to keep your guests warm. Be careful not to crank it up too high. Remember when you fill the room with 150 – 200 warm bodies the temperature will only continue to rise.
Of course you don't want your guests freezing, organize space heaters if you think the windows and doors will be drafty.
Keep the spray tan light
It's the middle of winter and the bright white snow will only make your fake tan look worse. It's nice to have some color for your wedding day, but be careful what level they use to spray you, keep it light!
Offer a hot drink bar
Whether it's apple cider, hot chocolate or an adult hot drink option, let your guests warm up with a hot drink bar!

Accessorize with the season
Winter is our favorite time of the year to add fun accessories to bride's fashion. Add faux fur boleros, scarves or cardigans to dress up and keep warm.
Don't only bring your designer heels, bring cute snow boots so you can trek through the snow! They also make for great photo memories!
Know where your guests are coming from
If you have a high percentage of your guests flying or driving long distances you might want to reconsider your dream of a snow filled wedding. A snow storm can show up at any time and make the roads too icy to drive on, or shut the airports down.
Ask about your venue's holiday decor
If you aren't careful you will have christmas trees and red and green decorations in the back of all your wedding photos. Ask what decorations your venue puts up for the holiday and if you are able to remove them for the day. Knowing this beforehand will help you avoid any unexpected surprises the day of.

Provide a coat check
All 200 guests will show up with jackets and unless you want them all draped over the reception chairs you want to make sure you have somewhere for them to put them.
Take time to warm up before you walk down the aisle
Getting snow pictures is a must for winter wedding but don't go from taking photos outside to walking down the aisle the next. Give yourself 15 – 20 minutes to warm up, reapply your make up and get rid of your red nose and ears!
What did I miss? What tips for Winter Weddings would you add?