Depending on where you are going you will obviously need to pack drastically different for your upcoming honeymoon.  For this post we are going to focus mainly on how to pack for your beach honeymoon.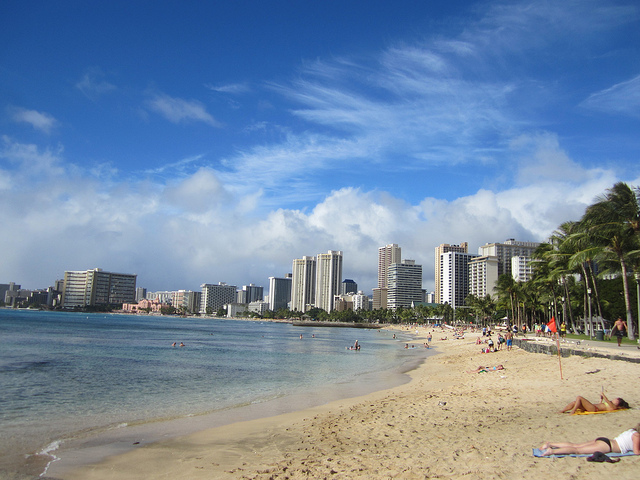 Carry On Bag
Ticket
Drivers license
Passport/Visa if you are leaving the country
Credit cards/Debit cards – (find out my favorite cards to travel with here)
Hotel reservations/Hotel address to tell your taxi driver when you arrive
Camera (charged and ready)
Snacks for longer flights
Health Insurance cards (just in case!)
Prescription medicine
Good book to read
Headphones
Clothes
2 Swim suits (make sure you bring one for sunning and one for more active sports if you are planning on getting out on the water)
Swimsuit cover up/sarong for her
3 – 4 Sundresses for her
2 pairs of Shorts
2 – 3 T shirts
Exercise clothes (you worked so hard pre wedding, don't stop now!)
Light sweater for evenings – just because you are going somewhere warm, it usually gets cold at night
At least one pair of pants for a nicer dinner or cooler evenings
Underwear/Socks
Sexy Lingerie from your bachelorette party
Flip flops for the beach
Tennis shoes for your morning workouts together
Shoes to dress up and wear out at night
Toiletries & Misc
Birth control (unless you two are planning a honeymoon baby!)
Toothbrush/Toothpaste
Small bag of makeup
Brush/Comb
Jewelery
Shampoo and Conditioner – most hotels provide this, but if you are particular about which type you like to use
Facewash
Deodorant
Body lotion
Lip balm
Razor/Shaving cream
Sunscreen
Contact lens solution/glasses/extra contact lenses
Chargers for cell phones, ipods, cameras etc.
electrical adaptor if you are traveling to a new country
Plastic Ziploc bags – you will be surprised how much these can come in handy
Print this list out and start checking the items off as you fill your suitcases. I don't believe in overpacking, I actually only usually bring a carry on with me which makes traveling less stressful and your bag is guaranteed to show up.
Always remember if you need items such as medicine, toiletries or anything you forgot you can almost always get it there. Bring the items you know you will need and dont stress about anything you left at home – just enjoy being together!