You've spent the last year planning your wedding, the big day has finally arrived and all your mind can think about is the suitcase you have packed in the trunk of your car and the palm trees that await you.
Wedding planning is stressful so it only is fair that you and your new hubby/wife escape the stress and jetset to some exotic location where you can hide out in a hotel all day, drink champagne and celebrate… but, when is the best time to leave?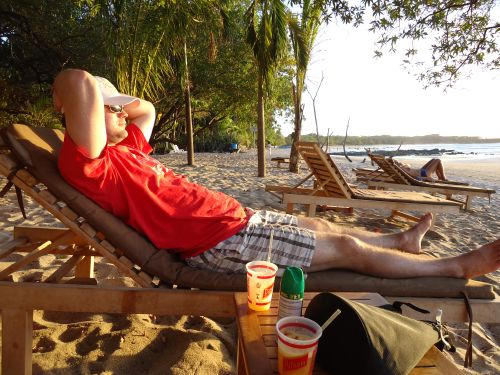 Let's go over the different options:
Leave directly from your wedding
Literally, jump in a limo and take off to the airport for a red eye flight after your wedding. Or maybe you decide to have a morning wedding followed by a brunch and schedule your flight later that evening. This is for the brides and grooms that can't wait to get to their next destination.
Leave the morning after
Close down your wedding with your guests, dancing into the night and then wake up early in the AM and catch the first flight out. This gives you a night to relax together, drop off your wedding dress with who will take care of it, get out of your wedding hair and make up and spend your first evening cuddling  in peace and quiet before you get out of town.
Give yourself a day to recoop
This is personally what my husband and I did. We had a lot of family in from out of town so instead of flying out the first second we got, our family and friends hosted a morning after brunch to get together one last time.
We didn't have to stress about packing for our trip early, we did it the day after the wedding and we spent most of the morning opening wedding gifts with family and laughing about the stories the night before. For us, it was relaxing to be able to sit with everyone in a more casual atmosphere and celebrate being married.
A month or so later, when your schedules permit it
You can't always plan your wedding around your honeymoon. Whether work is too busy to take 2 weeks off, or the location you want to go for your honeymoon has bad weather for another season. Don't stress if you can't get away the moment you are married, find a city nearby and do a weekend getaway for a few nights and then come back and start planning for your full blown 2 week honeymoon in an exotic location.
This also helps you stress less since you aren't having to plan a wedding and a honeymoon all at once.
There isn't a right or wrong answer…
Do what works best for you and leave for your honeymoon when you and  yours feels it is right. A lot of when you leave might depend on finding a cheaper flight at a certain time or when the hotel is available you want to stay at.
Just remember your honeymoon is for you two to re connect after a long and usually overwhelming year of planning. This is your time to kickstart your new life together on the right foot! Enjoy!
When are you planning to leave for your Honeymoon?