Anyone who knows me, knows how much I love ice cream.  I am not picky on flavors or toppings I just love the icy cold treat! While planning a wedding and choosing all of your favorite things, why would you not include this heavenly goodness?  Hosting an ice cream bar at your wedding is a fun way to give your guests a chance to create their own dessert!
If your heart is set on the traditional wedding cake, one suggestion would be to have your caterer begin to serve the ice cream bar towards 10:30 – 11:00 pm, or about an hour before the reception ends.  By this time your guests have hopefully danced away their dinner and are beginning to get hungry again.  Have this as your "late-night snack" for everyone still celebrating, as a farewell to a fabulous wedding. If you decide to wait to serve the ice cream bar until later in the evening, make sure to factor in the family and friends that will leave.  I would suggest ordering the ice cream bar for half as many people as you ordered your dinner for.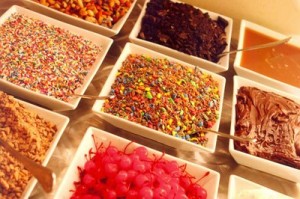 I would encourage you to keep it simple!  Stick to your basic vanilla and chocolate ice cream flavors, and go crazy with the toppings.  The more colors and textures, the better!  Talk with your caterer about what they can offer you and have fun matching serving dishes like the ones pictured above.  An ice cream bar isn't just for kids- you will be surprised how big adult's eyes get when they see this delicious display!  I encourage you to tempt your family and friends to dip into this ice cream delight!
By now, you may be imagining a sugar overload with both a traditional wedding cake AND an ice cream bar. Take a moment to consider mixing the two together…  I imagine artfully designed, individual ice cream servings displayed in the tiered shape of a cake.  Check out this fabulous cake I found at For the Love of Weddings!!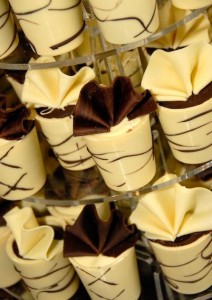 If you have a larger budget and you really want to take this ice cream bar a step further, you could look into personalizing your own ice cream flavor at ecreamery.  Did I say ice cream flavor? … you'd be able to personalize everything from your own packaging to the mix-ins and finalize the creation by giving it the perfect name for your wedding!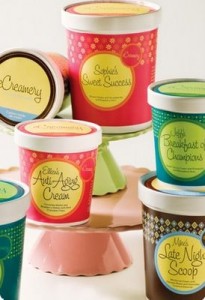 Finally, a fun favor idea to go along with your ice cream bar are these adorable ice cream scoops found at Wrap With Us.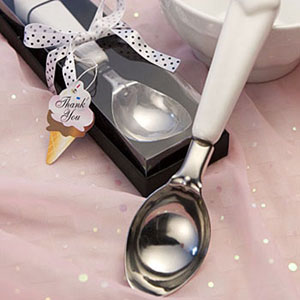 Now that I finished this post…I think I will give in to my craving and grab a scoop of mint oreo ice cream to go! 🙂