WARNING: Valentine's Day is less than 1 week away!!!  If you have failed to prepare a surprise…or are planning to pick up a special gift, you are running out of time 🙂
Valentine's Day, the day when we celebrate those around us who we love, falls on a Saturday this year.  Not only does this mean you should start thinking about making your dinner reservations early, but thousands of couples have been planning their wedding around this upcoming day of love!  I read recently that 500,000 people get engaged every year on Valentine's Day.  I can only imagine how many couples are taking advantage of this weekend's holiday and inviting friends and family to join them in celebrating their new marriage.
If you are planning a wedding for February 14th and want to stick to the classic Valentine's Day theme, I have some ideas that will hopefully inspire you!  I have always believed red roses are the J. Crew of flowers; you can not go wrong with them.  They are classically beautiful and work perfectly for a Valentine's Day wedding!
Begin with Invitations that will show off your color scheme and scream love with a picture of you and your hubby.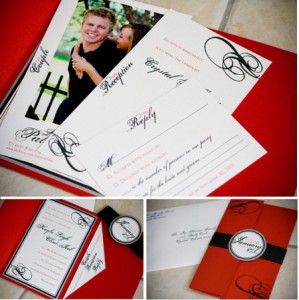 Abby Jean Press
Next, pick out bridesmaids dresses and a stunning cake design like these found at The Knot that will leave your guests breathless!
Strut down the aisle in chic shoes that are sure to leave an impression…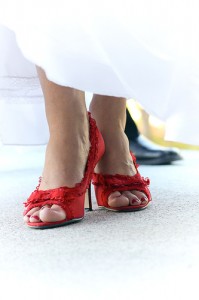 Celebrate with perfectly decorated centerpieces and a table set that shows off your Valentine's Day theme!
Finally, Tie up your theme with some conversation hearts made into cookies to give as favors.  Have sayings like: "Will you Marry Me", "Be Mine", "02.14.09" or "Kiss Me" written on the cookies.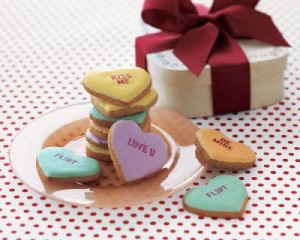 Pacific Weddings
This Saturday, many couples will be married and will have decor like the pictures above, red roses and bridesmaid dresses.  If you love the idea of getting married on Valentine's Day, but hate the color red, don't feel any obligation to this theme!  This is your special day and should reflect you and your fiance's style, not what the most expected color scheme is!  There are many ways to highlight and celebrate being in love on Valentine's Day without the color red or lots of heart decorations.
Did you have a Valentine's Day wedding? Send me pictures with the colors and decorations you decided to use!