Since moving to Chicago I am amazed at the variety of vendors and choices you have as a bride and groom.  Recently I came across a bakery like none that I have ever seen: The Bleeding Heart Bakery. They were the first certified Organic Bakery in Chicago and have lived up to their mission since, always changing their menu but staying true to their out of the box organic style.
This is one of the few bakeries where punk rock and delicious pastries go together.  Its funky style, and scrumptious sweets are addicting.  Their mission is simple: "to create edgy yet beautiful pastries that provoke thought and emotion and is above all, superior in taste and always organic." Over on Belmont and Damen, Michelle Garcia is taking baking to a new level!!  She is showing everyone how delicious organic foods can be and still manages to have time to incorporate events such as canned food drives and knocking on doors selling cupcakes for Obama.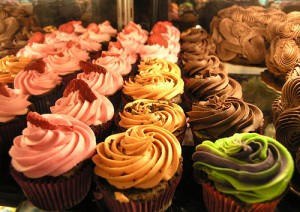 Is your mouth beginning to water by looking at these cupcakes? Would you believe me if I told you they were gluten free?  Bleeding Heart Bakery is able to make vegan look and sound salivating even to every carnivore out there! Many brides have incorporated this bakery into their big day and have uniquely wonderful creations for their cakes. A few of my favorites are shown below but if you want to see most of their artistic ability visit their flickr page: Bleeding Heart Bakery.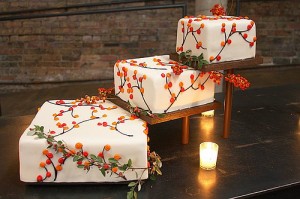 I adore the designs on these cakes and can't even begin to imagine what the flavor of each one is, all organic, all the time!  If you are in the area, stop by this bakery and meet Michelle and Vinny and try one of the many tasty treats they have available!
Check out their website: Bleeding Heart Organic Bakery.