A wedding invitation is your guests sneak peek at what to expect when they attend your wedding!  If you are anything like me, you want to leave a great first impression.  I remember sitting down and starting to think of what I envisioned for my invitations, and looking at all of the creative options available!  I knew I wanted modern and colorful, but I didn't want anything too "girly", I wanted the wording to be different and fun but still slightly formal (it is a wedding) 🙂 O the decisions…
I explained to Heather, a family friend of my Mother in Loves, all of the thoughts I had on my invitations: specifically design, colors and wording.  After going back and forth numerous times she helped me create what I look back on as my perfect invitations!  Our RSVP cards were on one of the three pull out sections as a postcard, we also provided directions with a map and reception information.  Little to my surprise would my invitations later be on Etsy as an option to use!  If you are looking for a pocket style invitation, ours got rave reviews and Heather was great to work with!!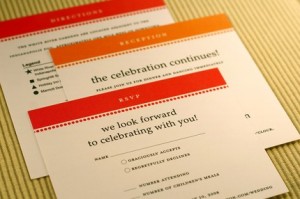 Maida Vale specializes in modern wedding invitations and stylish birth announcements at affordable prices. They also provide custom design services. To learn more about Heather and her shop, please visit her website Maida Vale!
Check out the "Eaton" Invitation Kit:  Etsy Shop