You might think what is more non-traditional than a mini-length wedding dress?  You would be surprised to hear that recently, many brides are choosing to sport the shorter lengths, especially at outdoor weddings! If you are a daring bride and want to be remembered for your original wedding style—go for the mini!   I think we will start seeing more brides going short, as it is one of the hottest trends of 2009!
The polka dots on this dress are so much fun!
Orange Tree weddings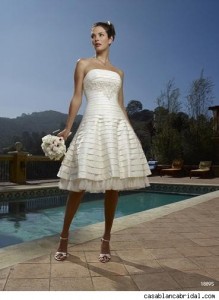 This reminds me of Marilyn Monroe's famous dress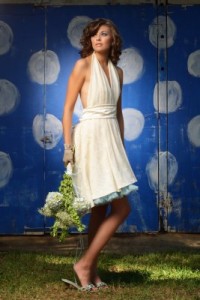 This fun and flirty tea length dress allows for a more casual feel while at the wedding and helps avoid grass stains if the wedding is outside.   But don't think just because you are choosing a short wedding dress that it means you have to host a casual wedding.  Many designers are coming out with short dresses full of style and extremely polished. These two dresses I found are absolutely high fashion and elegant: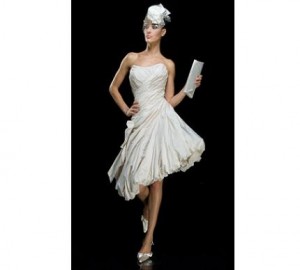 Bridal Wave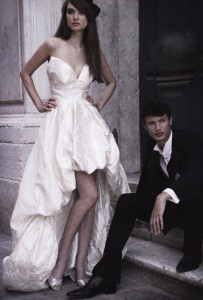 Paul Costelloe
One of the main things that draws my eye to the shorter wedding dress is that it allows you to show off your sassy shoes that I know you spent hours shopping for! Have fun with creative shoes that add color or extra style to your outfit!
If you can not pull yourself away from the "princess" feeling you get when you are in a wedding gown, I would suggest looking into one of these shorter dresses to change into for the reception.  It will allow you to move freely and dance the night away with your guests! If you are switching dresses after the wedding, keep a similar style with both dresses, such as similar fabric or shape to keep it consistent.
Did you decide to strut a mini down the aisle?  What were the reactions from friends and family!?