Whether folded, draped, stuffed in water goblets or built into a creative shape, napkins have the ability to add to beautiful table design.  Most caterers offer a standard black or white napkin with their linen package. You can use these basic colors and find ways to make them original by either adding creative napkin rings to the napkins or using contrasting colors elsewhere.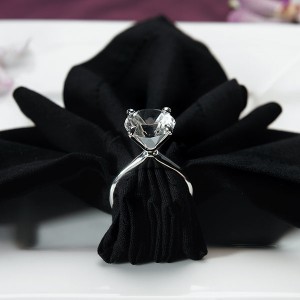 First, you need to determine what atmosphere you are trying to create for your guests.  If your ideal wedding is simple and clean, I would stick with white linens and napkins.  This will enhance the "pure white wedding" feel. You will still be able to bring your color or theme in with the centerpieces, but you will avoid making the table feel busy or overdone.
On the other hand, if you are attempting a brighter, more striking wedding, try mixing it up with your napkin colors!  Napkins are an easy way to add color to your table without overwhelming the room. Remember: "Less is more." Adding a simple touch of color with the napkins can make the room glow!  I love these two pictures I found from The Knot. The napkins are presented in two very different ways, but still have the same effect and pop of color throughout the room.
A very common way for napkins to be used in a table setting is folded with a pocket.  Many brides use the pocket to place a menu, a small favor or flower.  This is another great way to incorporate napkins into fun table settings.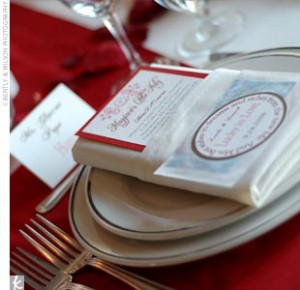 You might see napkins as minor details that are the last thing on your to-do list…and that's fine!  They are a small consideration that can make a big difference!  I take time to blog about these little details because I truly believe that these are great ways to make your wedding stand out!