As a bride, you may give yourself over a year to plan, and have as many binders and to-do lists as humanly possible, but I want to let you in on a little secret: Something on the Big Day will not go as planned!  This post is written to help you breathe, look at the bigger picture and enjoy your wedding day!
Worst case scenario— You are in the middle of saying your beautifully written out vows, and you feel everyone looking at you. The outside heat of the hot June day is finally getting to you…and you faint! I promise, at the end of the day, you will still be married. (I am speaking from first-hand experience!)  I think my favorite comment was "You looked so graceful falling into your dress"! Let's be honest, I scared 250 of my friends and family to death.  I could have very easily let my embarrassment get the best of me and let my wedding day be ruined, but I didn't.  I came to, made a joke about it, and continued on with the ceremony. I was determined to make it to the final kiss, (whether I remembered the ceremony or not!)  My friends' comments that night consisted of "that was the most exciting wedding I have ever been to" (from the male guests of course), and "I can't believe how well you handled the situation".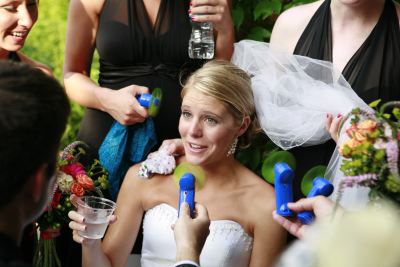 That's the key to this story: dealing with obstacles when they don't go as planned on your wedding day… It is all about how you handle the situation!  In every couple's wedding I have coordinated, something unplanned has happened (whether the bride and groom know about it or not).  You either realize that at the end of the day you will still be married despite the mishaps, or you join the "bridezilla" club and let it rain on your parade.  I would guarantee that the majority of brides you ask will have their own horror story to tell and they all lived through it.  Someone will show up late because of traffic, it will rain, the guys' tuxes won't fit, or the cake will melt due to the heat. Deep breaths…
Ideas to help you relax during the planning process and when the big day finally arrives:
Always remember the goal of the day: To marry the man of your dreams
Plan what you can, Prepare for the worst
Go on dates with your fiancee – enjoy the love you share
Hang up your cell phone…or give it away to someone you trust
Learn and practice Yoga
Ask for Help!!!