As you are planing your wedding you will eventually need to plan your grand exit.  Many venues recently have restricted the use of rice and flower petals due to the extensive clean up after, or a possibility of harming animals!  Many couples have found creative ways to still have an exciting exit with birdseed, bubbles and sparklers, my favorite obviously being the sparklers!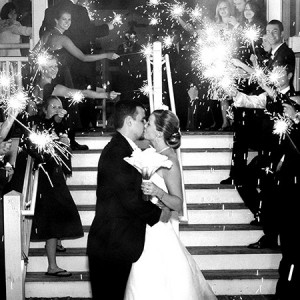 At night these sparklers create such a dramatic effect leaving you with breathtaking pictures!  I suggest informing your photographer that you plan on using sparklers for your exit so they can come prepared with the proper night gear and flash that they need to get the best possible picture.  A great idea to help save money in your budget is to also use these as your favors!  I would suggest tying up five or so sparklers with a cute lighter and leaving it at each place setting.  After they use the one for your exit, they can take the rest home with the lighter!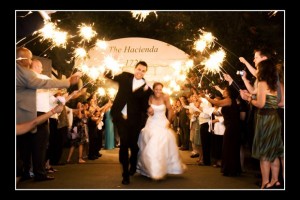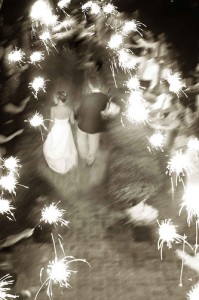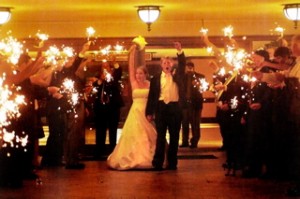 Make sure you plan the exit in a large enough area to fit all of your guests comfortably with still leaving a wide enough aisle for you and your dress to make it safely through the sparks!  Although sparklers are simple fireworks you still have to be careful while celebrating that you aren't waving the sparkler around when you are close to other guests!  These are still potentially dangerous so make sure kids are watched while using them and you keep them away from all flammable materials!  When your reception venue tells you they don't allow rice or rose petals get creative…and consider using sparklers to celebrate you big day!!
Sources: The Knot, Dallas Brides, Sparkle