What did you do with your wedding dress after your wedding? Is it still sitting in your closet waiting to get cleaned? Are you hoping one day your daughter will wear it, or are you just holding on to it for nostalgic reasons? Trash the Dress is a new trend where brides take pictures in the dirt, water, etc. "trashing their dresses."  I the reasoning behind it is that you are telling your friends and family that you are in this marriage for good, and will never need to wear a wedding dress again. If you are willing to get a little dirty in your dress you can have some really spectacular pictures! The two pictures below are extreme, but so original I love the inspiration!
These water pictures are beautiful, their dresses spread out and seem weightless.
If you aren't looking to trash your dress alone, get your new husband involved and have fun ruining your wedding clothes together!
I think it would be fun when all of your close group of friends are married to have a "Trash the Dress" party and all chip in on a top photographer to take pictures trashing your dresses together!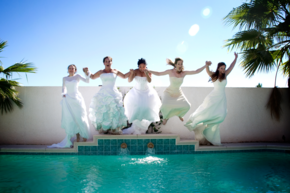 Many photographers are really beginning to embrace these trash the dress photo sessions.  They allow you to really dig deep and pull out your personality and creativity! Check with your photographer, even if they have never had a trash the dress session before, maybe he or she will do it for a discount to help build their portfolio.  You never know until you ask 🙂
What are your thoughts on trashing your wedding dress? Would you be willing to wear it into the ocean?

Sources: Wed Pix, Indigo Charlotte, The Knot