I have to begin this post with the most well known, ideal city bride there is, Sarah Jessica Parker – from Sex and the City.  She almost made it down the aisle in a lovely Vivienne Westwood design.  I have to point out my favorite detail from her attire is her hairpiece.  Although some critics might hate it, I think it is completely unexpected and makes her style stand out as her own.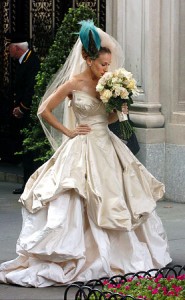 In Hollywood it is easy to be over the top, throwing a stylish affair that everyone drools over.  My downtown Chicago lifestyle allows me to see it from a more realistic view, but just as city chic.  I love seeing brides embrace their roots and tie in details that highlight the city that they love!
Don't be afraid to stop traffic on your big day…Reminds me a bit of the Abbey Road Beatles Picture!!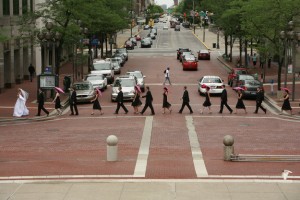 Whether you hail a taxi or take the el on a daily basis to work, why change your routine on your wedding day?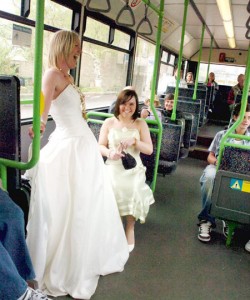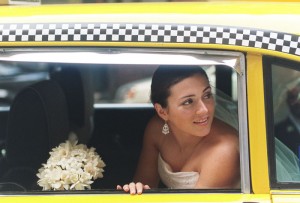 During your big city wedding do not forget to stop by the locations that make your city what it is, landmarks… favorite restaurants… or simply fabulous places you and your fiance have spent time at.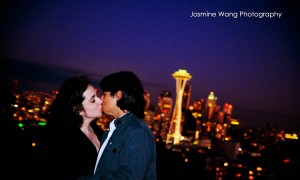 I adore this Garrett's Popcorn Bar that was set up as a take home favor of the most stylish popcorn in Chicago for their guests. If your city is known for piled high hot dogs, deep dish pizzas, or cheesecake, whatever it is – serve it up at your wedding and give your friends and family a taste of what you and your husband love!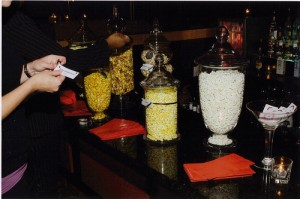 Celebrate your city and embrace what makes it unique !!
Sources: Jasmine Wong Photography, Bride.net, Rich Miller Photography, In Style,