I want to know where you went on your honeymoon!
My personal destination of choice was a villa in the hills in St. Maarten!
It had our own infinity pool and the most amazing view that will be forever stuck in my mind! We went grocery shopping early in the week and made delicious (but simple) lunches and dinners together at night!  We got dressed up and went out to nice dinners in the city for a couple of the evenings.  We were able to truly relax with no hussle and bussle around us.  If we wanted an adventure we had rented a car and could go anywhere on the island, but if we wanted peace and quiet we had that too!  My experience at Vista Royale was fabulous…I will return sooner than later! Highly Recommended!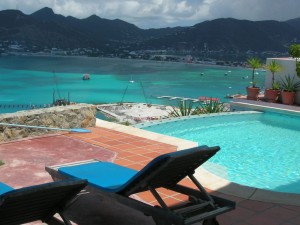 I want to hear where you all went for your honeymoons!  Let's give all of the brides out there suggestions on where to go and what to plan!