Whether you use this word search as a game at a bridal shower, or you are using it as a way to help keep your guests entertained at the wedding, it is one more way to personalize your wedding.  The best part about this is it is free!!  (You don't hear that word too often when you are planning your wedding!)
At the bridal shower, introduce this simple game as your guests are finishing up dinner.  It will give everyone the opportunity to eat at their own pace and something to do when they finish.  If you have a more competitive bunch, wait until the group is ready and time everyone, first one to find all of the words wins a prize!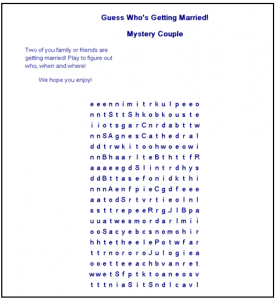 Another idea is to have them available at your wedding, you don't need to make them the center of attention by any means, but if kids are getting bored or your uncle's legs are tired from dancing…this would be a fun way to pass the time!
Source: Armored Penguin