Everyone is ready for spring!  Warm weather is right around the corner and so are vibrant yellows to help bring us out of the winter blues 🙂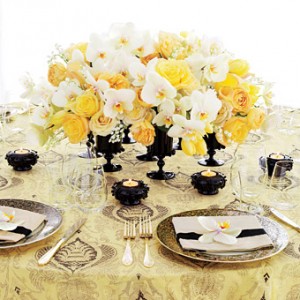 These bouquets tie in with the black using ribbons around the stems and small black roses throughout the bouquet.  The black allows the yellow to stand out, not overwhelming it but adding to it.
These cakes from Josefs Vienna Bakery are yummy examples of a modern black and yellow and a softer pastel and pearls wedding cake.
All of these J. Crew dresses offer a different style but the same happy shade of yellow.  Let your bridesmaids choose a style that they feel comfortable in, while keeping the material consistent.  My favorite is the last dress shown that has a yellow and grey pattern.  I think this year we will see a lot more brides breaking the norm, and choosing dresses that have patterns for their bridal party.  Another idea would be to let your maid of honor sport the pattern dress while your bridesmaids wear the solids, allowing another way for your maid of honor to stand out!!
One detail that is not always seen by your guests, but makes your pictures look fantastic is when you are able to find fun colored shoes to help complete your style.  Either of these shoes would look fantastic under your dress.  If your bridesmaids are wearing black cocktail dresses, consider having them wear yellow pumps to add a pop of color.
Yellow weddings are über trendy right now!  You will find a lot of inspiration boards for yellow and grey which look fabulous together and are hot colors for 2009.  So many combinations can be put together with this cheerful color! It will brighten your event and hopefully bring sunshine to your wedding day 🙂
Source: Charmingly Chic, Next Exit, J. Crew, Smart Bride Blog, Josef's Vienna Bakery