While on Twitter, I have not only found fabulous entrepreneurs across the world specializing in a variety of wedding art, but I have made some great friends along the way!  Ashley Moran is a true gem I have come across on Twitter with an amazing pick of gifts and favors for every occasion at Cherished Gifts & Favors! My girly side starts to come out as I glance through one of her most popular lines for purse and shoe themed events!
Envision style and sophistication married with a perfect fit! A trio of tiny, rhinestones adorn the top of this sexy, silver-chrome, stiletto shoe, so stunning that bottles almost line up to be opened. Who would have guessed this sassy shoe would double as a bottle opener!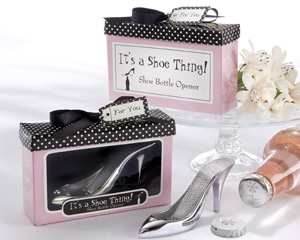 Your bridesmaids will love having this patent leather manicure set to keep their nails looking fabulous for the big day.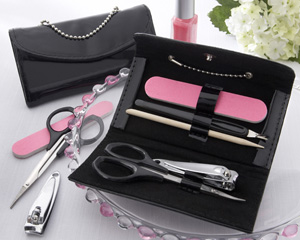 Talk about favors that are sure to make your girls grin! Half funky, half fancy, these purse bottle stoppers party favors are very useful and just plain retro-fabulous. Each set contains four different hand painted purse designs and each purse arrives in a box that's almost as cute as the stopper itself (and that's saying a lot!)
A fun idea for a shower would be to get each guest a bottle of wine that is special to you and your fiance, let them take it home with one of these cute purse stoppers!
These stylish luggage tags could be used as place cards for your bridal shower or bachelorette party, and then let everyone take them  home as a small thank you gift!  I can already imagine when the wedding comes around you will see the tags again at the wedding on everyone's luggage!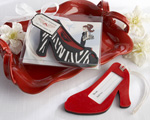 What woman hasn't struggled with the problem of where to park her purse at restaurants, meetings and other occasions? Sling it over the back of the chair? Too vulnerable. Keep it in your lap? Too awkward. Place it on the floor? Ewwww.
Imagine how thrilled the guests at your bridal shower will be when they find you've chosen the Purse Valet Stainless-Steel Handbag Holder for their favors! They'll probably open it right there and use the practical Purse Valet while they enjoy a fun-filled, worry-free celebration!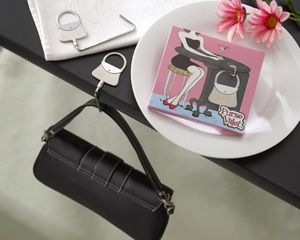 I have highlighted on a few of the many fun and affordable favors you can find at this site! Whether is is an Asian, Beach, or Coffee theme you will find gifts and favors to fit your event!!
After you check out Ashley's site let me know which favors caught your eye!
Source: Cherished Gifts & Favors