One of the simplest drinks to make, and by far the tastiest during a morning brunch!  Whether you are serving this during your bridal shower or for a morning wedding reception, mimosas are a bubbly way to start your day off right!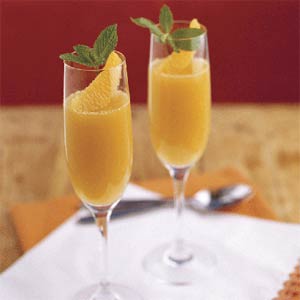 I have heard of and tasted a variety of recipes to create this delicious drink.  Although they all are yummy, I personally like to keep it simple.
Ingredients Needed:
Orange Juice
Champagne
Orange Garnish
Directions:
1) Fill half of your glass with orange juice
2) Pour your champagne in to fill your glass, lightly stir
3) Garnish with an orange piece
4) Sit back, relax and enjoy!
I hope you are enjoying a Friday Morning Mimosa, celebrating making it through another long week. 🙂
Source: Kim Frye Blog