Enter today to win 4 apricot azuri feather pashmina scarves for your bridesmaids from Niml—supporting natural, organic & green lifestyles.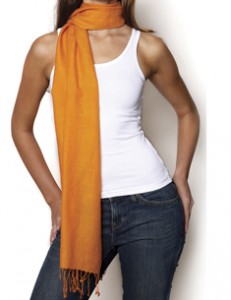 If you haven't gotten a chance to check out Nimli, an online shop for stylish organic products—I highly suggest you head over to their website.  The offer a variety of ecologically friendly products that are natural, organic, recycled, sweatshop-free, and cruelty-free.
Rajat Arora founded Nimli in New York six years ago, based on his belief in eco-conscious lifestyles.  He strives to minimize the carbon footprint for everyone and encourages sustainability in our everyday lives. Nimli is quickly becoming carbon neutral by purchasing Green Tags to offset the carbon footprint caused by shipping, energy consumption and other daily business activities.
There are so many options of gifts, beauty products and home decor items that you could incorporate into your wedding day as favors, thank you gifts, bridal party gifts or even special outfits for your showers and rehearsal dinners.  Not only are you purchasing unique products from individual designers, but you are helping to support the philosophy Nimli has started to preserve the earth and take action now in saving what is left!
**Check out their blog, Nimli Talk and be updated on hot trends and fashion supporting a green lifestyle.**
To Enter:
Check out Nimli's website and leave a comment with what product jumped out at you as a must have!
The contest will end July 30 and a winner will be randomly chosen and  announced on July 31.