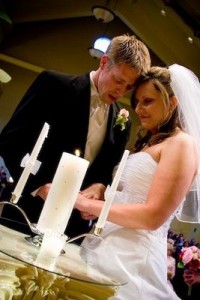 The unity ceremony is a symbol of not only the bride and groom joining together, but it symbolizes the families uniting together in support of the upcoming marriage and future.  To add a special touch to this tradition I have seen many brides and grooms hold a flower ceremony to honor their parents.
After you and your groom light the unity candle, have two roses set aside in the front and each take one.  Walk together to where your parents are sitting, first to the bride's mother, hug your mom and dad and celebrate by presenting your mother with a flower.  Next, walk across the aisle to where your groom's family is sitting, hand the mother of the groom a flower and hug and celebrate your new family together.
Throughout this ceremony, I suggest having a special singer or song playing in the background for your guests to enjoy. This will take the unity candle tradition and add a very personal touch by interacting with your family and making it a true joining of families.
How did you personalize your unity candle ceremony?
Source: Lightly Photography