Wine enthusiasts and bare feet unite!
Or as Barefoot Republic says, "Kick off your shoes and join in the fun."  You will be surprised by the fun and active crowd that enjoys this wine!  I am blown away with the full spectrum that Barefoot Wine offers its connoisseurs.  From wine tastings, scrapbooks and blog posts, to recipes and volunteer opportunities—you will never be bored while drinking this wine!
Of course my favorite has to be the Barefoot Bubbly, always available for celebrations and adding to the festivities!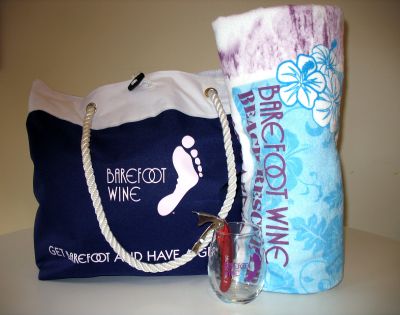 Enter and Win This Barefoot Beach Giveaway!
Leave a comment with one of the three options below (or all three) and earn an entry for each comment!
1) Check out the wines at Barefoot Republic and tell me which is your favorite. If you haven't tried a Barefoot Wine, get to the store so you can join in the giveaway!
2) Join the Barefoot Republic (I am a proud member!) – Come back and share your barefooter name (Mine is BubblyBride)
3) Leave a comment with your favorite getaway where you kick off your shoes and live out this fabulous barefoot attitude!
Giveaway ends October 19th and the top barefooter will be announced October 20th!