Although you will still find basic clean lines on wedding cakes, many couples are adding texture to their design and spicing it up with unexpected twists!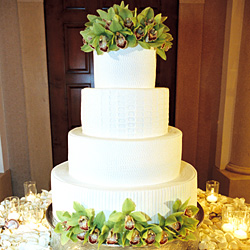 Today brides and grooms are embracing not only color, but wedding cakes full of fun patterns!  The flavors and styles are all over the board.  No longer do you simply find a bakery for your wedding cake, if you are looking for one of these elaborate cakes you need an artist.  You need someone who can bring out the life in the cake and reflect your personality.  Each layer could be a different flavor with polka dots on half the cake and stripes and designs on the other.
How did you make your cake stand out?  Did you go to your bakery with a vision or did you let the artist design her own style?
Source: Manifest Vegan, Isabel Lawerence