Don't think I have skipped Thanksgiving and gone straight to Christmas.. BUT I came across this great DIY wreath and had to share it.  I know so many families who spend the weekend following Thanksgiving putting up their Christmas decorations together, and while reading the cb2 Blog this project jumped out!
This is also a great DIY idea for your wedding, get ornaments in your weddings colors and hang them on the doors of the church or reception.  An easy way to add decorations to you event!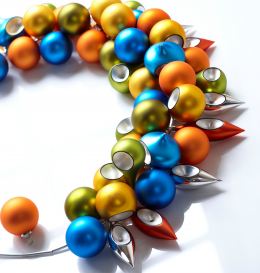 Supplies:
1. Strong stiff wire that can be bent into a ring. We used aluminum wire gauge 20, about 55" long–due to the scale of the products in the shot, our wreath was rather large, about 28″ in diameter. A wire hanger is also a simple way to go.
2. Ornaments. We used a total of 81 ornaments. For a smaller version, we're guessing you could make a 14" wreath with about a third of the ornaments depending on how full you wanted it.
3. Strong tape to fasten the ends of the wire ring together or, pliers to twist the ends of the wire ring together.
4. Ribbon to hang the wreath.
Directions:
1. String one ornament at a time onto the wire ring, alternating colors, using smaller ones to fill in the gaps.
2. When the ring is completely covered in ornaments, fasten the ends together.
3. Use a ribbon to cover the spot where the ends are fastened together, and hang!
Tip: best not to go too large in diameter as the wreath could become too heavy and stretch out.
Hopefully I will get a picture of mine when I finish it! Wish me luck!
Source: cb2