One of my favorite websites to visit is Uncommon Goods, if you have yet to check this out I suggest heading over there now!  There is always a new, unique and interesting gift to stop and make you wonder!  There are practical gifts and there are fun gifts – recycled, eco-friendly gifts and colorful completely unnecessary gifts…but all full of character!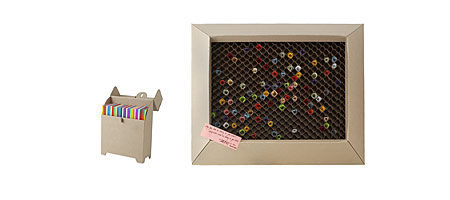 I came across this Wishing Wall Frame and thought it would be a perfect way to recreate the timeless guestbook at your wedding.  Have each guest sign a small sheet of paper with a wish for your new lives together, signature or good memory they have spending with you.  This will make for a colorful display in your house,  and a great talking point when guests visit – I am sure everyone will wonder about it!
If you are hosting a smaller wedding and are weary of filling up this large wall of wishes, start early! Bring it to your showers and bachelorette parties, each event you can come up with a new idea for your friends to write down.  In the end the wall will be filled with fun stories, kind words and well wishes!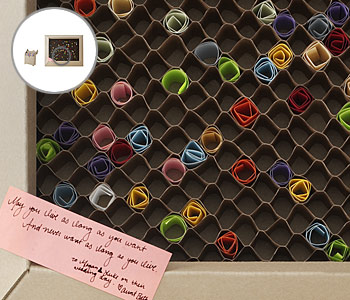 Source: Uncommon Goods