How did you personalize your wedding? These M&M's are a great way to add color and personalization to your big day, along with a sweet satisfaction!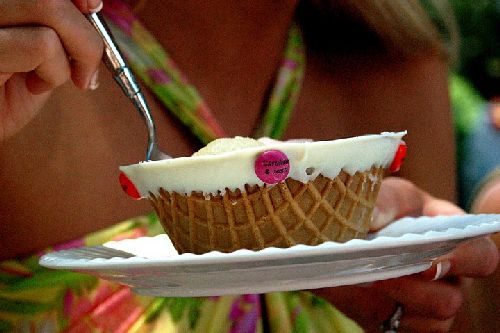 You can head over to MyM&M's and create your own message on your customized chocolate candy!  These are great because you can order the colors that you want, to enhance the theme at your wedding.  Use them on a candy bar, or place them individually at each place setting – but make sure to do your calculations carefully so you don't run out.  You can't just run to CVS and pick up more of these custom treats!
Since these M&M's are more expensive, possibly using them at a bridal shower is a better option for you. This way you don't have to order as many M&M's but you still get the same yummy message across to those you love!  The M&M's that you see in the photo were customized for my wedding – going along with my pink and orange colors.  They had both my name and my husbands name on them and were placed at each place setting for my bridal shower and on these ice cream bowls that the hostess made.  They were a great addition, that stood out to me and my guests!