Shoes, a vital accessory to some girls' overall attire. Hours spent shopping, hundreds of dollars spent on the perfect stilettos, to make you strut your stuff in just the right way!
Did you spend the same time and energy shopping for your bridesmaid's shoes as you did your own? While shopping for the bridesmaid dresses did you have the perfect shoe envisioned with the dress to complete the outfit and encourage each gal to purchase it?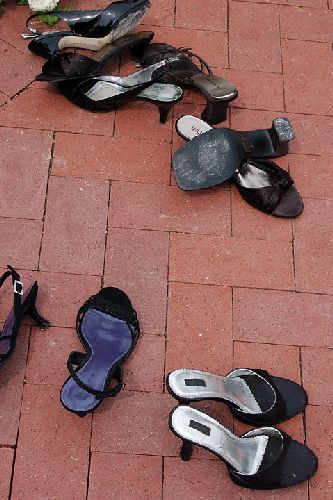 If you read my previous post about pre-wedding showers at onewed you would know my stance on controlling costs when it comes to your bridesmaids. I believe you have to prioritize what is important to you and ask your bridesmaids to spend money accordingly. For instance, if you are stuck on having your bachelorette party in Vegas – that is a plane flight and an expensive weekend that your girls are willing to pay – but maybe try to save them money on the dress and shoes. On the other hand, if you are a shoe girl, which I know many are, have a local bachelorette party (equally as fun) and have your girls splurge on the shoes to complete the outfit.
Another big consideration is who you pick to be in your wedding and what they are comfortable wearing. My five foot friend will not be comfortable in flats, while my 5'9 friend will feel awkward in 5 inch heels. If you are getting married outside, heels will make your walk down the aisle a bit wobbly. Be realistic when planning the shoe attire! (Realistic doesn't mean boring!)
Finally, if shoes are not a concern to you, let your bridesmaids be comfortable and choose their own. Give them a color and let them find a style they will wear again. The variety will reflect each gal's personality while letting them walk down your aisle in confidence.
I want to hear from you… were shoes for your bridal party a big concern or was that an item you left open for your bridesmaids to decide?