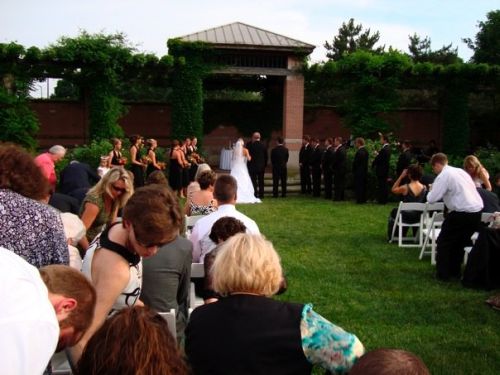 You See: A dirt stain on the bottom of your dress from your photo session earlier that day.
They See: A beautiful wedding dress that flows as you walk down the aisle.
You See: One of your groomsmen forgot his shirt and has to wear an 'off white' shirt instead of an 'ivory' shirt.
They See: A perfectly matched bridal party, especially the men who look handsome in their tuxes/suits.
You See: The florist forgot to bring an extra flower for your best friend who is singing in your wedding.
They See: A beautiful girl who is standing in front of the entire church singing her heart out for you.
You See: The font on the escort cards were improperly printed and were in the wrong font.
They See: They are blessed to have a seat at your reception and be a part of your big day.
You See: Not everyone is on the dance floor all night long.
They See: A great opportunity to meet and catch up with your family and friends while enjoying an occasional dance.
You See: An overall great night that had a few hiccups along the way but you are married and happy in the end!
They See: A seamless and perfectly planned out evening without a single flaw!
I could go on and on with what you should expect to go wrong on your big day and all of the small game time adjustments you will need to make that no one will ever know about. You spent a year planning and have every move played out in your head. Your guests don't know what to expect, they are coming in with an optimistic view and aren't dissecting every detail. They are always appreciative of being a part of your day and will never notice if your processional begins 10 minutes late or your wedding cake has strawberry instead of raspberry filling.
Always remember that your view of the day and your guests' view will be different and don't sweat the small stuff 🙂 !!