You have made the big decision to by pass a traditional church wedding and are opting to say your I Do's in the sand.  Planning a beach wedding can be less stressful than planning a big hometown reception, but there are still some key questions you and your groom need to consider.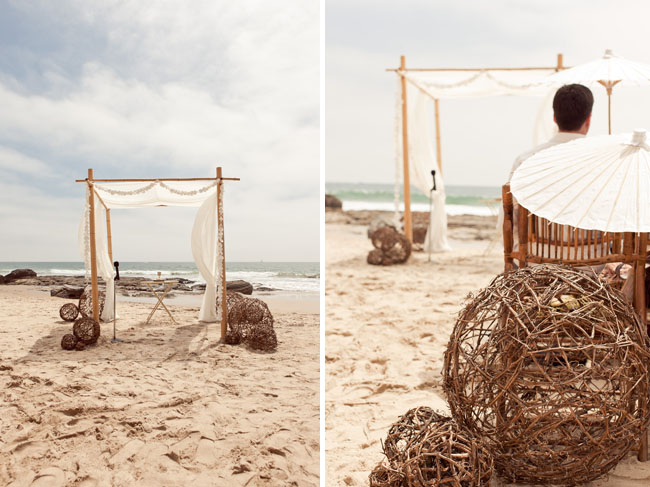 Questions to ask yourself when designing a beach wedding:
Public or Private Beach?
Do you mind having people on the beach while you get married, or do you want to be the only ones for miles on a private beach? You can save money by getting married on a Public beach, but then you have to be prepared to have strangers in your photos or onlookers in the background of your photos.  Typically you need to send a friend or family member out early to the beach spot to stake it out and set up before other beach goers arrive.
Did I visit the beach during the time of day I want to hold the Ceremony?
Beaches can get windy or the sun can shine differently at different times of the day. I suggest visiting the exact spot, at the exact time you wish to get married so you are prepared with the weather and angle of the sun. By getting married outside you are at the mercy of mother nature, so visiting your spot early will only help you feel more prepared.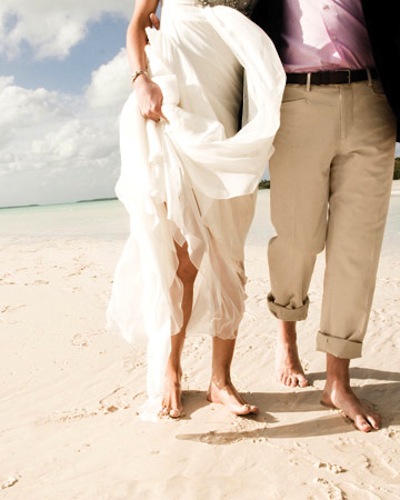 Shoes or No Shoes?
Heels don't walk gracefully on sand.
Usually brides walk down the sandy aisle in ballerina flats, flip flops or barefoot  Which ever you pick I suggest practicing walking in sand (mostly because I know how I look walking in sand)!
What Type of Fabric for your dress?
You want to pay attention to the fabric you pick for your dress!  Not only to go along with the beach theme, but in order to keep cool as the sun shines above (trust me I passed out at my wedding!). Beach weddings are usually more laid back especially when it comes to what brides can wear. The length can be shorter and the design much more casual.
Good Fabrics to consider: Crepe, Chiffon, or organza
What Should the men wear?
Men are fun to dress for beach weddings. Instead of an expensive, constricting tux, men can wear casual linen and still look handsome standing next to you. Men can also wear flip flops down the aisle to stay consistent with the casual theme.
Colors?
When your backdrop is the blue water and white sand you can do a lot with colors. I personally love the bright beach tones to stand out against the sand.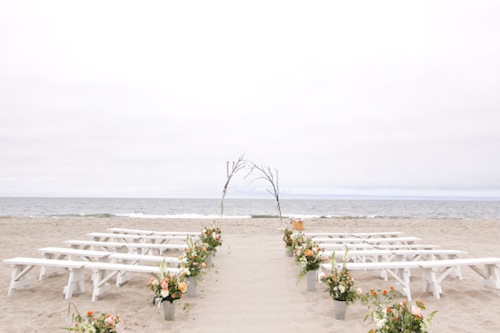 Where will my guests sit on the beach?
I have seen beach weddings where they back up a huge truck and unload beautifully designed chairs for everyone to sit in. Or, there has also been standing area only wedding when the bride and groom don't plan on having a long event. One of my favorites is where they bring in benches for a beach wedding. It adds to the casual atmosphere but still allows everyone to sit comfortably.  If you are going for super-casual you can simply offer colorful pillows and your guests can sit directly on the sand!
Do I have a rain plan?
Mother Nature can be rough! If you are planning your wedding and the reception outdoors come prepared with a backup plan in case it rains. This can be as simple as reserving a restaurant for your guests to escape to, or having a tent set up for just in case situations!
What else would you add to my list?